September 07 Blankenberge
The North Sea shows its unfriendly side. First north-easterly, then northerly and now north-westerly winds mean high waves on this coast, especially getting higher by the sands. Always sailing through the waves at 5 to 6 knots is too much, for me as well as for amica. The sands bend the normal waves into cross-seas and after a peak of overlapping waves there is usually a deep fall. Amica cries, that means, water comes again, only little, but it's not good. I shouldn't be too hard on her any more. So now I leave the North Sea at Vlissingen and go through the Netherlands again, the way is called Staande Mast Route.
The Dutch weather forecast has announced so nicely that now, after the stilhangende trog has cleared, na lange tijd de weststroming weer op gang is finally coming. Well, that means constant westerly winds on the coast. I'll keep amica from that and chug along the channel. Dunkerque held me for 2 days and now Blankenberge for a day, it's about time going north, regardless of the weather.
The world is getting hectic again. For a long time I haven't seen so many cars on the roads for a long time. Yet Blankenberge is a small tourist town, at least much smaller than Calais or Dunkerque. People are also on the move more quickly, there's no more strolling. I have to get used to that again. Is there a relationship between the mobility mania and hectic behaviour? Maybe so, there may be other reasons.
Lately I've been talking to a lot of English people who thought it was a pity that only I visited those cities like Eastbourne and Brighton at the south coast. They said I didn't get a good impression of England, because these places are all very busy, not relaxed. There would be a much quieter England, especially towards the west, if one avoided the big cities. That's why they love the Norman coast, among other places, where everything is much quieter.
September 12 Volendam
First through the Scheldt delta in one day, then around Rotterdam to the north into the Ijsselmeer. Sounds easy, but it was a long trip, not so much in terms of distance, but in terms of time. One always have to plan for waiting times before the railway and motorway bridges. Nevertheless, it was good to choose this route, even after Rotterdam on the Nieuwe Maas, spray flew around my ears. And the trip to Haarlem was accompanied by gusts of up to force 8. Now I'm in the Ijsselmeer and the wind is supposed to slowl down. Here are definitely less or no waves. Outside on sea, probably it will take some time, until all calms down again.
Stations: Middelburg, Willemstad, Gouda and Haarlem. Now Volendam.
I have made a few clips:
The Scheldt is a beautiful area, here is the Veerse Meer. Unfortunately, I sailed through quickly.
Here is also a lot of sailing. Harbour near Kortgene
Kramersluis, as always these locks are quite green and muddy.
Pays-Bas, low land, Netherlands
On the way through Amsterdam there were drizzle only. Here on the Ijsselmeer it didn't look any better.
Then there was a slight rumble, and then it looked like this. But there was still no wind.
September 16 Lauwersoog
Once in 7 days I've crossed the length of Holland, which is quite a lot and always long. Now I'm sitting here in Lauwersoog and tomorrow I'm off to Borkum. From Vlissingen to Lauwersoog I haven't touched the sails once. Autumn weather, strong winds, rain, lulls on the Ijsselmeer with mosquitoes, and slowly it's getting quite chilly, so it's different. I also caught a small cold, yes, the north is just cooler and more damp.
The Netherlands is at the bottom of my ranking, especially the part of the Ijsselmeer and south of it. There was increasing recklessness, especially from the professional league. If they don't want recreational boats here, they should simply close the way. No one responds to radios and no one picks up at the phone numbers provided. What's the point? And then three barges in parallel in the fast lane. Just like three trucks on the motorway spread over three lanes. No one is faster.
Friesland is more relaxed, and I'm looking forward to the rest of the tour along the islands.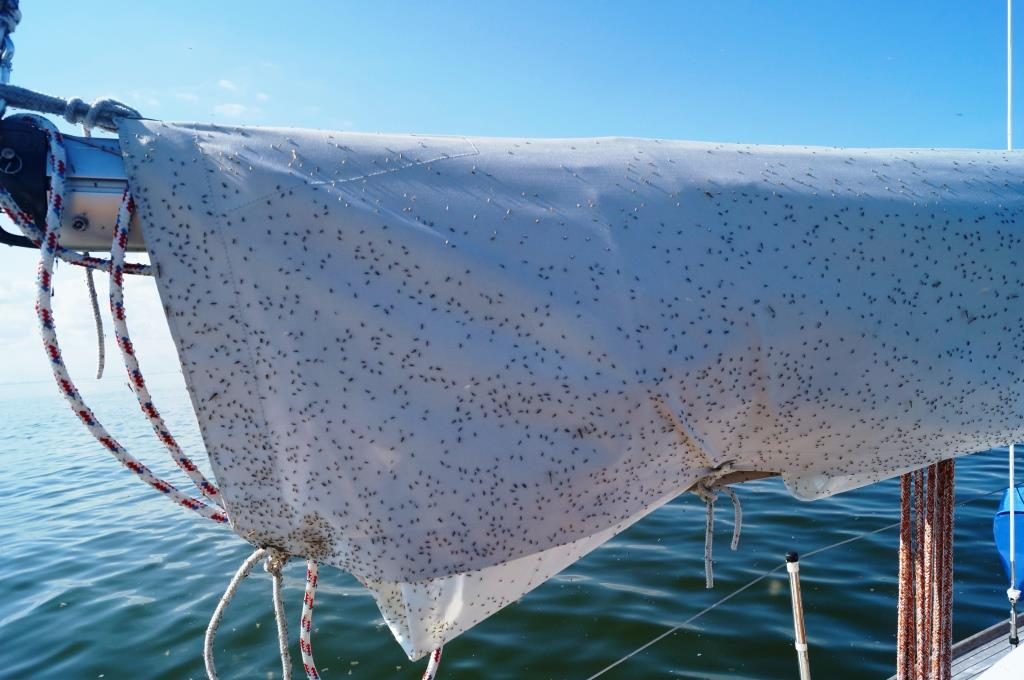 The notorious Ijsselmeer mosquitoes, they crawl into your mouth, nose, eyes and ears. After 2 hours in the harbour, the spook was over, but now with an infinite number of corpses smearing the sails.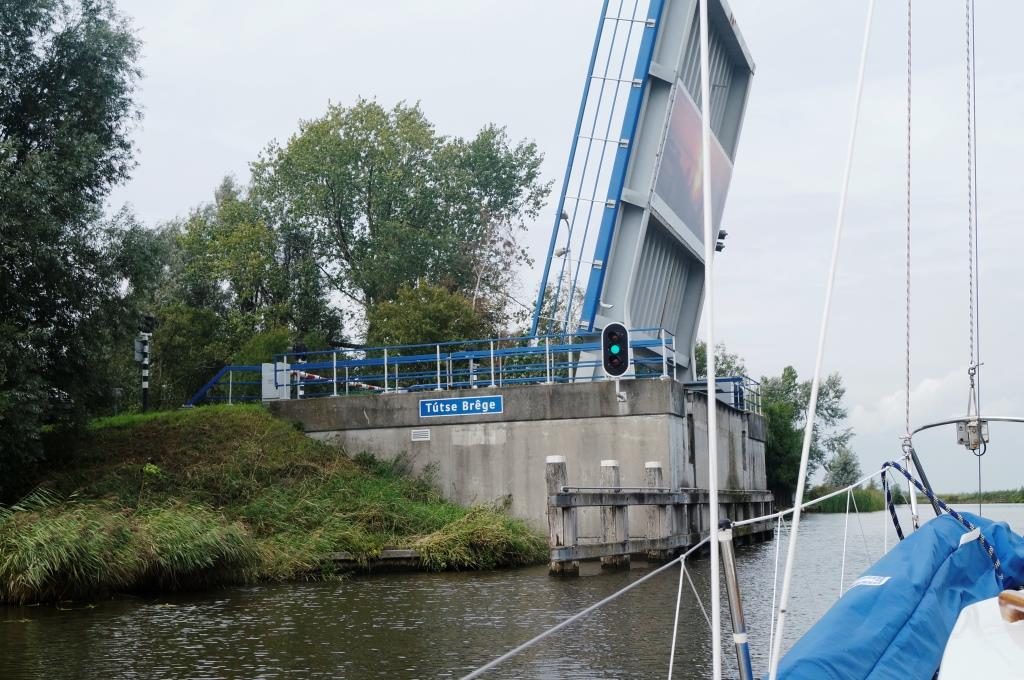 South of Leeuwarden they have moved the "Staande Mast Route", away from the main fairway into the province, really Frisian here.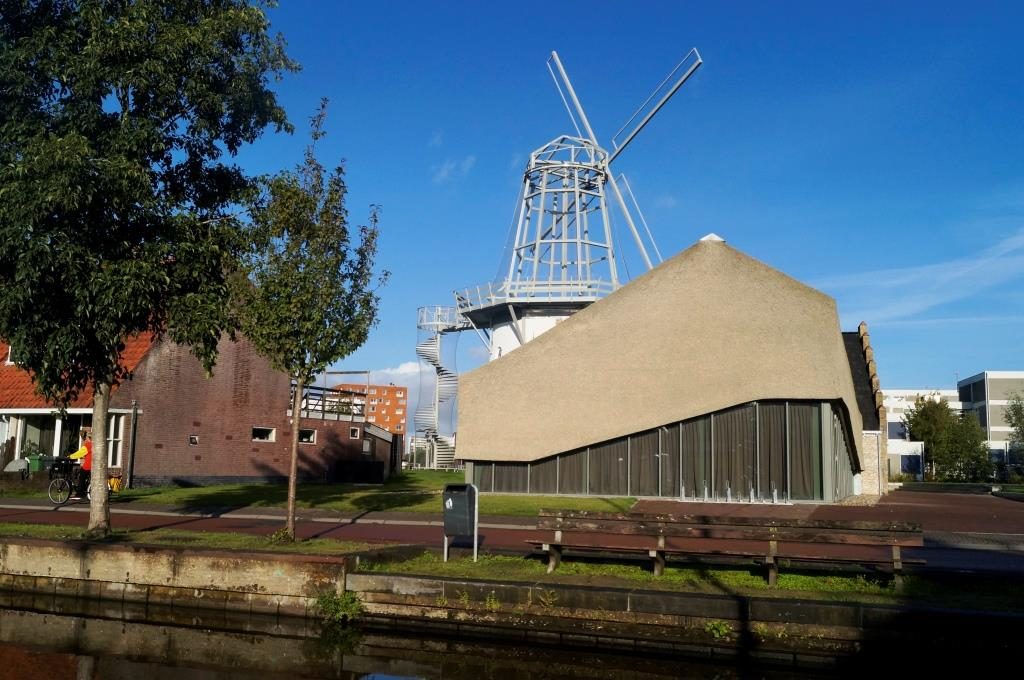 Windmill in modern design, yes greatja and with a viewing staircase.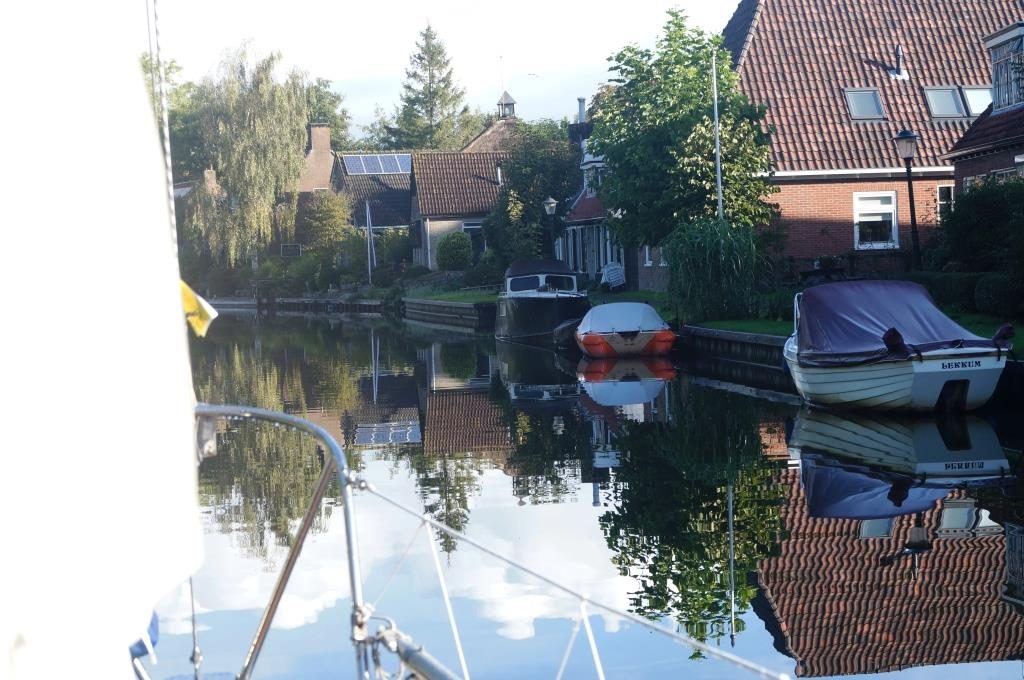 At nine in the morning, rich colours…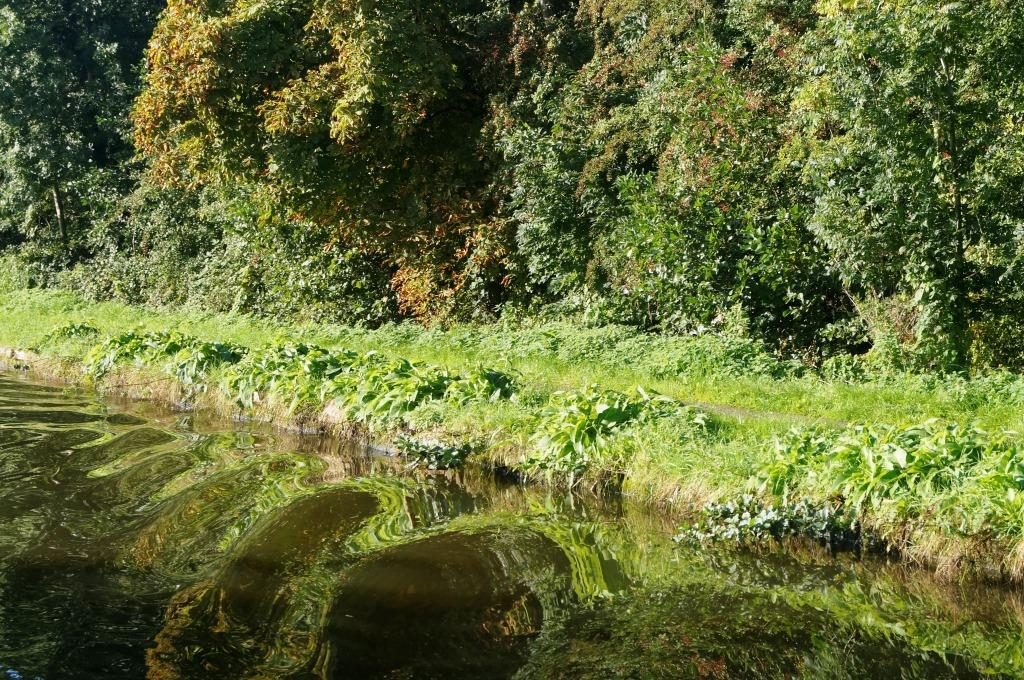 Lush green.
September 19 – Borkum
The way through the Westgat at Schiemonnikoog and then to Borkum we could sail nicely again. After all the chugging, amica was really happy to show that sailing is much more beautiful.
She couldn't be held back any longer, constantly 2 hours between 6 and 7 knots, which meant permanent surfing.
The water just rushed by.
And if you don't believe it…
However, at the end the wind died. I briefly considered sailing straight on to Norderney, but I still didn't feel fit enough for a 10-hour trip. And my fears came true: I was stuck on Borkum. Anyway, the next few days will be very exciting, as far as the wind conditions are concerned.
September 20 – Norderney
We sailed around Borkum, then back into the Osterems and over the mudflats to here, with a increasing wind force up to 6-7 Bft. Only under jib did I reach 6.5 knots. Now the wind conditions will be continued like this for a week, and it will also be cold and wet. Now I'm taking the ferry and driving home.
Here one can see the reasons. We are on the mudflat side, there is usually only 2 metres of water, but of course, the fairways are a bit deeper. 8 Bft, wet and what you can't see: cold.
This big ferry is even rocking!
One last look, the decision was good and right!
September 26 – Norderney
So, after 5 days of shore leave I'm back on board and assume that now I'll quickly make the rest of the way into the Elbe. First I'll sail in the tidal flats as far as Wangerooge, then at weekend into the Elbe. The weather is supposed to be calmer and good from Saturday.
September 30 – Cuxhaven
The trip goes according to plan, only the wind conditions are not so pleasant. The report on the last few days will follow later. I will sail into Wedel this evening, tide and wind are right for the trip this time.
September 30 – Wedel
Arrived again, and still in September! Still, once again the last few days have been tough. The nice weather window for the weekend kept changing for the worse. Initially, weak winds and good weather were announced. No sooner, I was back on Norderney than Sunday-weather was cancelled. One day later, the weak winds were longer forecast for Saturday, but 3-4 Bft. That could be funny, because for the following days increasing winds are forecast again, up to 8 and 9 Bft. So I have to go on somehow.
First I sailed Thursday from Norderney to Spiekeroog at WSW 5-6 Bft only under jib, as planned and predicted. Current, the Otzumer Balje almost falling dry at low tide, so one only allowed to sail through near high tide and calm weather, there must be no swell, otherwise it's very dangerous in the outgoing fairway. On Friday we have driven one island further at north 7 with gusts, only under motor. The Alte Harle, the outgoing fairway near Wangerooge, will not be navigable for days by such winds, even though it has a metre more water.
What to do? Tide-wise bad but perhaps feasible: with rising water over the mudflats to the east side of Wangerooge and then try to sail out the deep Blue Balje or, if that is also impossible, over the Jade and the Kaiserbalje into the Weser to Bremerhaven. There I could take down the mast and drive through the Hadelner Channel to Otterndorf. That would be the safest way, but it would involve a lot of action and take a few days longer.
What can I say, we came out of the Blue Balje under jib and motor at 5 Bft again, no 3-4 Bft. Those one will know the area from Jade over Weser to the Elbe, when the wind blows from north to west at 6-7 a day before and now at 5 Bft from Southwest, know off about difficult waves there. The fun factor was not only close to zero, it was absolutely in the minus range. Only the positive: I was not alone on the course to the Elbe and the waves broke rarely. In the Elbe, it took the height of Neuwerk for the swell to calm down. 5.20 p.m. at buoy Elbe1, 8.30 p.m. just before beacon E, and the tide stream running out, and it's become dark. From there, under motor, always along the beacons, we reached Cuxhaven shortly before midnight. The heating was on, it was freezing cold, and then I just went to bed.
From Cuxhaven to Wedel, I didn't feel like sailing any more. After almost 7 hours, we finally reached Wedel under motor power. It's a pity after this summer, almost the whole September looked so bad in terms of wind. After Calais, only I had one nice sailing trip, the one from Lauwersoog to Borkum, always everything else involved a lot of adrenaline.
Next week amica will be in the hall and in caring hands and I too have to get my strength back first.
What else is to say: In conclusion.